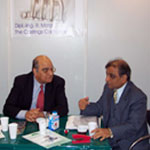 Matai-Histo­ry & Background:
In 1970, Mr. R. Matai, mecha­ni­cal engi­neer from Han­no­ver Uni­ver­si­ty, had some excel­lent ide­as in paper coa­ting tech­no­lo­gy and star­ted his own com­pa­ny deve­lo­ping tech­ni­cal papers and films and sel­ling the­se repro­gra­phic pro­ducts world-wide.
As cus­to­mers from more and more coun­tries asked for Ger­man and Euro­pean tech­no­lo­gy, sourcing and pro­ject manage­ment ser­vices, Mr. Matai deci­ded to take care of cus­to­mers' requirements.
Today we help our cus­to­mers to deve­lop busi­ness in both directions:
To Euro­pe and from Euro­pe. Just con­ta­ct us for addi­tio­nal information.
On 1st Janu­a­ry 2008 the Com­pa­ny owners­hip has been han­ded over to Mr. Niels Matai. Any­way, Mr. R. Matai remai­ned in the com­pa­ny till his sud­den death in Janu­a­ry 2012.
Woher wir kommen…
1970 eröff­ne­te Dipl.-Ing. R. Matai mit eini­gen Ideen zur Beschich­tung von Papie­ren und Foli­en ein Unter­neh­men und belie­fert seit­dem welt­weit die Märk­te mit Repromedien.
Die Kun­den frag­ten auch ande­re Pro­duk­te und unser Know-how nach, und so ent­wi­ckel­te sich ein welt­wei­tes Geschäft in der glo­ba­len Beschaf­fung und in der tech­ni­schen Rea­li­sie­rung bei Pro­jek­ten über alle Gren­zen hinweg.
Zum 1. Janu­ar 2008 wur­de die Inha­ber­schaft auf den bis­he­ri­gen Juni­or­chef Niels Matai über­tra­gen. Herr Ram Matai blieb dem Unter­neh­men aber wei­ter­hin tat­kräf­tig ver­bun­den bis zu sei­nem plötz­li­chen Tod im Janu­ar 2012.