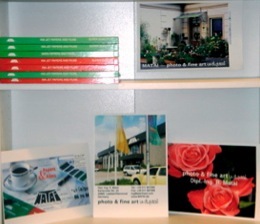 Fi­ne Art is precious.
We un­der­stand Artist's re­qui­re­ments and we help you to bring your vi­si­ons to rea­li­ty using Matai-​Graphic Art pa­pers. Just con­tact us for your fi­ne print requirements.
Graphic Art Material for highest quality full colour prints
Whe­ther you are from ad­ver­ti­sing in­dus­try or run a pro­fes­sio­nal pho­to stu­dio, we help you to get ex­cel­lent prints from your da­ta at a good »va­lue for mo­ney« basis.
Our pro­duct range:
Glos­sy ink­jet pho­to papers
Sa­tin ink-​jet pho­to papers/​poster papers
Matt ink-​jet pa­piers, coated on one si­de or on both for hig­hest re­so­lu­ti­on Po­ly­es­ter films and Vi­nyls (al­so self-​adhesive) for prints in pho­to qua­li­ty Ty­vek® and Can­vas Spe­cia­li­ties for pig­men­ted inks
Moun­ting and La­mi­na­ti­on films
Spe­cial ran­ge for solvent/​eco-​solvent plotters